.: current news :.
Tales from the moe.Republic: Brother John, the author of the long defunt moe.mailer column, Tales from the moe.Republic, has decided it was time to put pen to paper and has put together a book! With words by John and cover art by Chuck this book is destined to start the most interesting conversations of anything on your coffee table. Right now it's a limited edition - 1,000 copies are available for presale and those will be signed by John, Rob and Chuck. It's $24.95 and that includes shipping & handling. This presale and limited edition will be available one time and one time only - so jump on it!
You can get more information from Brother John's myspace or by emailing him at moe.republic@gmail.com. Paypal can also be sent to that address, or you can send a personal check or money order to:
John Derhak
PO Box 2238
Jupiter, FL 33468
Keep in mind folks, there's no solid ship date yet, but word 'round the campfire is that it will be within the next 90 to 120 days. Patience. Genius takes time.
From Brother John's myspace:
Long-time moe. fans may remember the column, which appeared in the old moe.Newsletter way back when.
That column was based upon a series of letters to Rob, your friendly bass player for moe., from his brother John, the humble, yet bungling innkeeper of the moe.Republic Hotel.

We're pleased to announce that brother John has finally sat his ass down and turned all those letters he wrote to Rob into a full-length book, Tales from the moe.Republic.

Now you, dear readers, can visit the mystical oasis of the moe.Republic Hotel anywhere, anytime, and read all about the adventures and misadventures of brother John when you purchase a copy of Tales from the moe.Republic, which one critic has deemed "...indispensable! A must read for every throne room in the moe.nation...!"

About the Book
Tales from the moe.Republic offers you a chance to journey into the heart of the legendary Lost Kingdom of Moose Harbor. Find out how brother John hooked Rob by the gills and reeled him in to back the hotel. Then catch up with the many characters who frequent the hotel and populate the town. Like brother Kevin and his beloved dog Sparky who disappeared into the cosmos once upon a Saint Patrick's Day. Meet Porter Gibson Digit and discover how this one man changed the course of history the day he invented the finger. There's Casey McNugent, the petting zoo farmer who sells elephant semen for profit. Throw in a haunted mansion, the misadventures of Timmy Tucker, the craziest Fourth of July party ever, a cursed pirate treasure, and you'll come to know why Rob and Al and Chuck and Vinnie and Jim have spent the better part of last fifteen years on the road and avoiding this place like the plague.
moe. video contest: In celebration of their new album, THE CONCH, moe. invites you to create a music video using any song off the album. Post it on youtube and send the link to moe.tube@gmail.com. We will upload it on the gotmoe channel as well. Check out the entries so far.
The rules:
It must be of your own creation and CANNOT feature any footage of the band itself. Be as naughty or as nice as you want; anything goes!

Two awards will be given out: one for the video that the band likes the best, and one for the video that receives the most views.

Please check out the video upload requirements on youtube to ensure that your video is the correct size. Be sure to read youtube's rules as well.

Each winner will receive an 80gb video ipod and 2 tickets of their choice to either moe.down 2007 or summercamp 2007.

Videos must be posted by April 15th, and the winners will picked on May 10th. The faster you get your video up, the more hits you might get! This is not limited to one video per contestant, go nuts. Good luck!
Check out Chuck: in a video of him singing Where Does the Time Go? solo & acoustic for WNKU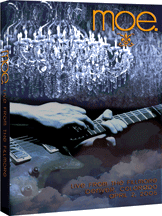 The Conch (cd) and Live at the Fillmore (dvd): In stores now - If you can't find it in your local store, please send an email to moe.inmystore@gmail.com. Or buy online now through the .org or Amazon. Be sure to call your local radio station and request Blue Jeans Pizza.

snoe.down is coming - This year's lineup includes: performances by The Disco Biscuits, Little Feat, Brazilian Girls, Tea Leaf Green, The Slip, Vorcza, Brother's Past, Moonboot Lover's Peter Prince, Sam Kininger Band, Gordon Stone Band, and The Brew. Late night shows will feature Brother's Past, Lucy Vincent, and the return of Gratefully Deadicated Sound System with more to come. Check out moe.'s snoe.down page for more info.

Is moe. your friend? Add moe. to your myspace friends:
moe - http://www.myspace.com/moe
Al - http://www.myspace.com/basemental
Jim - http://www.myspace.com/electricloughlinland

moe.blog - check it.
Discography - Check out our new and improved discography.
moe.RADIO is online! Thanks to some hard work, from James Paddock you can listen to selections of live moe. from any high-speed connection. It's fresh every week with several hours of material, so be sure to listen often.